Elkhorn State Park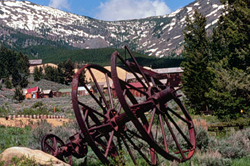 Elkhorn fits the description of a ghost town perfectly. Backcountry roads settle you into a 19th century mining landscape before you reach historic Fraternity Hall and Gillian Hall, which are open to the public, nestled within the privately owned town of Elkhorn. Bring your camera to record these two picturesque structures from the early-day silver-mining ghost town, preserved as outstanding examples of frontier architecture. Each of these structures has been recorded in the Historic American Buildings Survey.
The townsite is more than a mile high. Nearby Elkhorn Peak with its glistening white marble cliffs stretches 9,500 feet up into the air. It started in 1872 and sent out $32,000,000 in gold and silver. Elkhorn is one of the prominent silver deposits of the country. Seventy-five structures created the town. Now, signs designate what buildings stood where. One sign points to a still standing building complete with a bed behind the regular house labeled "dog house" where the husband could escape to avoid the scolding of his wife.
During the summer of 1889 diphtheria swept through the town, taking many infants and children's lives. The cemetery still stands, well maintained. Graves are marked with stone, wooden markers, and sometimes metal and wooden palling fences. Markers stand at both the head and the foot of the grave.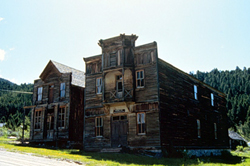 The mine was shut down in 1912. In 1972 attempts were made to reopen the mine by pumping water down to the 500-foot level. Elkhorn was never reborn.
Western Montana Ghost Town Preservation Society bought two of the structures, the Fraternity Hall and Gillian Hall next door, and Fraternity Hall is considered to be one of western America's most historically significant structures still standing.
How To Find It!
Elkhorn is located in the southwestern part of Montana. It can be reached from Boulder off of I-15. Go 7 miles south on Highway 69, left over small bridge then right onto gravel road 13 miles, bearing left at each of two forks in the road.
For more information and maps visit the Montana Fish, Wildlife and Parks listing for Elkhorn State Park.