Clark's Lookout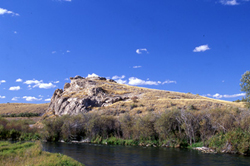 This outcropping above the Beaverhead River provided the Lewis and Clark Expedition a view of the route ahead. Captain William Clark climbed this hill overlooking the Beaverhead River to scout what lay ahead for the Lewis and Clark Expedition. It projects upward to an elevation of over 5,100 feet. This is a day-use-only site, but you can walk the trail to the top and experience the same incredible view that Clark saw over 200 years ago.
How To Find It!
From Dillon, Clark's Lookout is located off I-90 using Montana exit 41, travel .5 mile east, then .5 mile north on the county road.
For more information and maps visit the Montana Fish, Wildlife and Parks listing for Clark's Lookout State Park.