Brush Lake State Park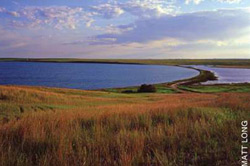 Brush Lake is a deep, clear lake with white, sandy beaches surrounded by grass fields and linear stands of spring wheat. Brush Lake offers public access for swimming on the northern portion of the 450 acre lake, at an elevation of 1952 ft.
Recreation development included interior roads, parking, boat ramp and dock, vault toilets, picnic tables and a designated swimming area. This is a day use only site. A day-use area is located on the northeast portion of the lake.
The area includes parking, fire rings and a designated swimming area. There's also a 1.5 mile hiking trail, beach, picnic site, pedestal grills and garbage bins. There is a boat launch and it's handicapped accessible. Due to the mineral make-up of this lake, there are no fish. It's open May 1 - December 1. Brush Lake State Park is the only FWP managed site on Brush Lake.
How to get there:
Brush Lake State Park is located 31 miles south of Plentywood. From Montana Highway 16 go east on Highway 258 for 16.5 miles, turn south on Brush Lake County Road, proceed one mile.
For more information and maps visit the Montana Fish, Wildlife and Parks listing for Brush Lake State Park.