Beaverhead Rock State Park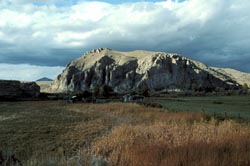 Sacajawea recognized this huge landmark resembling the head of a swimming beaver while traveling with the Lewis and Clark expedition in 1805. The expedition was traveling the headwaters of the Missouri, now known as Three Forks. Sacajawea recognized a point on a high plain, Beaverhead Rock, as being near the summer retreat of her own people, the Shoshone.
Beaverhead Rock became a state park in 1975. This natural formation is listed on the National Register of Historic Places. Attractions near Beaverhead Rock include Clark's Lookout State Park, Bannack State Park, the Beaverhead County Museum in Dillon, and historic Virginia and Nevada cities.
The site is 4,949 feet in elevation and is 71 acres in size. The site can be viewed and photographed from a distance but is not directly accessible.
How To Find It!
Beaverhead Rock State Park is located 15 miles north of Dillon on Highway 287.
For more information and maps visit the Montana Fish, Wildlife and Parks listing for Beaverhead Rock State Park.