Anaconda Smoke Stack State Park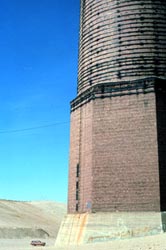 The old Anaconda Copper Company smelter stack, completed on May 5, 1919, is one of the tallest freestanding brick structures in the world, standing at 585 feet and measuring 86 feet in diameter at the base. In 1980, the Anaconda Company shut down its smelter operation in Anaconda, putting an end to its historic economic base. The stack can only be viewed at a distance; the park itself is not accessible. The stack was declared a state monument by the 1985 Montana Legislature.
Construction of the stack was completed on May 5, 1919. The Stack was built by the Alphons Custodis Chimney Construction Company of New York. At the time it was built, it was the tallest masonry structure of any kind in the world. An interesting note is that the Washington Monument would easily fit inside. It is commonly referred to as 'The Stack' and is a well known landmark in western Montana.
The stack was designed to discharge exhaust gases from the various roasting and smelting furnaces at the smelter. The stack is situated on the top of a hill. The smelter had a large network of exhaust flues from the furnaces that all fed a main flue. The main flue carried the combined smelter exhaust gases a half-mile up the hill to the stack. The flue system and stack combined to provide a natural draft to carry the smelter exhaust gases, and it was claimed to be capable of handling three to four million cubic feet per minute of gas.
How to Find It!
The viewing site for the Anaconda Stack is located at the junction of Park Street (Montana Highway 1) and Monroe Street at the eastern edge of Anaconda. The site is adjacent to Goodman Park. Access is limited to the viewing/interpretive area only.
For more information and maps visit the Montana Fish, Wildlife and Parks listing for Anaconda Smoke Stack State Park.