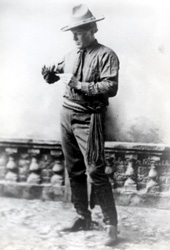 Charles Marion Russell (1864-1926) was many things: consummate Westerner, historian, advocate of the Northern Plains Indians, cowboy, outdoorsman, writer, philosopher, environmentalist, conservationist, and not least, artist. Born in St. Louis, Russell dreamed of being a cowboy, living the exciting life of men on the range. Russell came to the Judith Basin of Montana in 1880 a few days after his 16th birthday. Working briefly tending sheep, he realized that his dreams of the West were not to be fulfilled in this manner. He soon teamed up with a local hunter, Jake Hoover, with whom he spent two years sharing a cabin on the South Fork of the Judith River. Shortly thereafter, Russell became a night wrangler for the Judith Basin Roundup.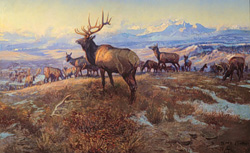 This was exactly what Russell the child had dreamed of, and what Russell the adult wanted and needed. It gave him time to observe the cowboys at work during the day, and to sketch and document all the activities and excitement of the cow camp. He continued to work as a cowboy and wrangler for 11 years before retiring to become a full-time artist.
Russell greatly admired the American Indians, especially those of the Northern Plains. He spent the summer of 1888 visiting often with the Blood Indians in Alberta, Canada. This experience affected him for the rest of his life, and can be seen in the many detailed works he created of Plains Indians.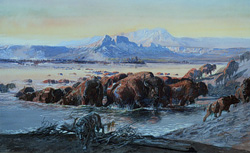 Charlie married Nancy Cooper in 1896. He painted and sculpted in his log studio adjacent to their home, filling it with his collection of Indian clothing, utilitarian objects, weapons, cowboy gear, "horse jewelry," and other western "props" useful in accurately depicting the scenes of the Old West of which he was so fond. It was here that Russell completed all of his major paintings after the studio's construction in 1903. In 1916, Charlie and Nancy adopted their son, Jack.
While Jake Hoover may have kept Charlie Russell here as a young adult, it was Charlie's love of Montana that kept him here for 46 years. The life he observed and participated in greatly influenced his art and personal philosophy. He painted in a time when there was considerable interest in the West. Charlie's works were popular because of their narrative subject matter, unique style, and dynamic action. In addition, he had the ability to accurately depict specific times or events in western history. Russell died on October 24, 1926 at his home in Great Falls, Montana.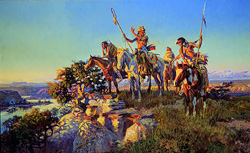 Charlie Russell completed approximately 4,000 works of art during his lifetime. He was the first "Western" artist to live the majority of his life in the West. For this reason, Charlie knew his subject matter intimately, setting the standard for many western artists to follow.
Established in 1953, the C.M. Russell Museum holds one of the most complete collection of Russell art and personal objects in the world. The permanent collection is comprised of over 12,000 art works and objects. View one of the nation's finest collections of western art and history in spacious, modern surroundings.
The Trigg collection is the nucleus of the museum's permanent Russell acquisitions. Highly personal and unique, it shows the wide scope of Russell's works and talents. Some of the most popular exhibits are his illustrated letters, which feature Russell's original spelling, entertaining illustrations, and down-to-earth humor and philosophy.
This museum has outstanding pieces from Russell contemporaries and from such world renowned artists as O.C. Seltzer, J.H. Sharp, E.E. Heikka, E.I. Couse, Winold Reiss, Olaf Wieghorst and others. The museum shop offers many special gifts such as jewelry, Russell prints, and fine western books. The complex also includes the former home and log cabin studio of Montana's famous cowboy artist. Preserved as it was in the early 1900s, the studio includes displays of Russell's personal objects used as props and references for accuracy.