Historical Museum at Fort Missoula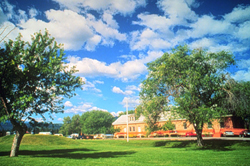 The city of Missoula began as a tenuous settlement known as Hell Gate in 1860, when entrepreneurs C. P. Higgins and Francis Worden saw trade possibilities and opened a log store in the valley.
The search for gold and the completion of the Mullan Road in 1863 opened up travel from Fort Benton, Montana, to Walla Walla, Washington, and brought people to the Missoula Valley. The settlement became known as Missoula, taken from a Salish Indian word meaning "near the cold, chilling waters."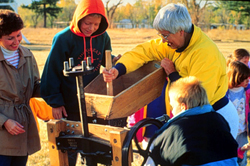 The city's success was aided by four factors. First, the U.S. Army established Fort Missoula southwest of the town in 1877. Second, the Northern Pacific Railroad reached Missoula in 1883, the same year the city was incorporated. Missoula became a trading center in earnest, distributing produce and grain grown in the agriculturally prosperous Bitterroot Valley. Businessmen A. B. Hammond, E. L. Bonner, and R. A. Eddy established the Missoula Mercantile Company in the early 1880s. Third, the University of Montana opened in September 1895. And, finally, in 1908, Missoula became a regional headquarters for the Forest Service, which began training smokejumpers in 1942. The Aerial Fire Depot was built in 1954, and big industry came to Missoula in 1956, with the groundbreaking for the first pulp mill.
The Historical Museum at Fort Missoula was established by community effort in 1975 to save what remained of original Fort Missoula, and to interpret the areaís history. The museum is located on 32 acres in the heart of historic Fort Missoula. Its collection includes 17,000 objects including 13 historic structures. As the only major historical museum in Western Montana, the Historical Museum at Fort Missoula provides a valuable educational and cultural experience for the community and entire region. The museumís indoor galleries contain both permanent and changing exhibits that deal with topics of interest from the period of early exploration to modern times.
It is located on 32 acres at the core of historic Fort Missoula (1877-1947), an area included on the National Register of Historic Places. The Museum has over 25,000 objects in its collection, including 13 historic structures.