The Montana Historical Society: Montana's Museum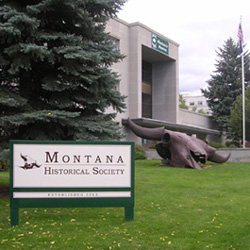 Montana's natural beauty has been a dramatic backdrop for 12,000 years of human history on this magnificent land. Montana's Museum is where history and land come together in the story of the people who have called Montana home. Located near the State Capitol in Helena, the museum is an essential part of a meaningful travel experience in Montana. The museum's Montana Homeland exhibit tells the adventure that is Montana — from the earliest pictographs and stone tools found in Montana, to the coming of Lewis and Clark and the mountain men, to the miners and homesteaders.
The Society's renowned Mackay Gallery of C. M. Russell Art is a feast for the eyes of any who love Montana and the West. Russell's masterpiece "When the Land Belonged to God" and his seminal "Waiting for a Chinook" are among the many works that vividly recall those who adventured in this land. The Society's F. Jay Haynes collection is by far the best photographic record of early Montana and the world-famous Yellowstone National Park. Haynes was the Northern Pacific Railroad's, as well as the Yellowstone Park's, official photographer, and his work spans Montana history from the 1870's into the 1920's. Each year the museum's changing exhibit gallery features different aspects of the Society's collection and Montana's history.
The Montana Historical Society was founded in 1865 by Montana's first Territorial Legislature, making it the oldest such institution west of the Mississippi still in existence (minus Louisana). In addition to the museum, the Society's headquarters is also home to the state's Historical Library, document and photo archives, and the State Historic Preservation Office. It is a researcher's paradise, from genealogist to academic historian. The Society's Publications Office produces the national award-winning Montana: Magazine of Western History and contemporary books on Montana and the West.