5. Missouri Breaks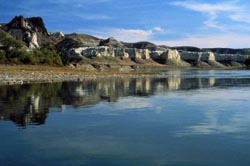 Missouri Breaks: On May 30 - 31, 1805, the explorers traveled through an area now known as the White Cliffs of the Missouri. The shore was studded with sharp flint fragments that pierced the men's moccasins and wounded their already sore feet. Lewis added that they weren't much better off in the water. The bottom and shoreline were so muddy that they had to shed their moccasins and inch their way along the bottom with the boats in tow over the shallow areas.
---
Thanks for visiting the Montana Kids' Site! We hope you've found the information both educational and entertaining. If you have comments or suggestions on ways we can improve the site please send us email at montanakids@visitmt.com.
You can also help your family plan a trip to Montana. Have your folks request a statewide travel packet by clicking here.
---
All contents © 2018, Montana Office of Tourism and Business Development. All rights reserved. Please visit us again at http://montanakids.com