10. Gates of the Mountains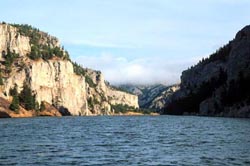 Gates of the Mountains: At the point where the plains surrounding Great Falls gave way to mountain foothills, the expedition again took to the river. They passed Square Butte, which they named Fort Mountain, and entered canyon lands. Anxious to locate signs of Sacagawea's Lemhi Shoshone band, Clark split from the party with three men to travel over land.
The Gates of the Mountains, now a reservoir, was a three-mile long river passage with 1,200-foot high cliffs. Lewis' journal of July 19, 1805, describes the passage: "the towering and projecting rocks in many places seem ready to tumble in on us… This extraordinary range of rocks we called the Gates of the Rocky Mountains."