1. Fort Union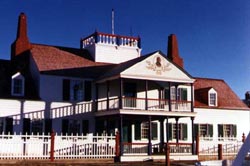 Fort Union: On April 25, 1805, the Corps of Discovery camped by the riverside near the future site of Fort Union. They entered what would be Montana and led the expedition into the land of the Blackfeet Indians. Their first contact with this tribe had been less than promising. The Blackfeet didn't want trade opened with their enemies.
---
Thanks for visiting the Montana Kids' Site! We hope you've found the information both educational and entertaining. If you have comments or suggestions on ways we can improve the site please send us email at montanakids@visitmt.com.
You can also help your family plan a trip to Montana. Have your folks request a statewide travel packet by clicking here.
---
All contents © 2018, Montana Office of Tourism and Business Development. All rights reserved. Please visit us again at http://montanakids.com