Rocky Boy's Indian Reservation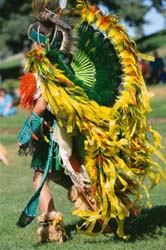 Rocky Boy's Indian Reservation provides a home for about 2,500 members of the Chippewa-Cree tribe. One story has it that the name "Rocky Boy" was derived from the name of a leader of a band of Chippewa Indians. It actually meant "Stone Child," but it was not translated correctly from Chippewa into English, and the name "Rocky Boy" evolved. The reservation is near the Canadian border, in northcentral Montana. It is graced by the Bear Paw Mountains, which provide dramatic contrast to the flat bottomland of the area.
Rocky Boy's residents who work on the reservation are employed by the schools, Bureau of Indian Affairs, Indian Health Service, and tribal government. There are also some wheat farming and post-pole production on the reservation. The tribe is actively working toward development of its natural resources to be able to provide more jobs and income for its people. Stone Child College is located in Rocky Boy's Agency. A two-year college, Stone Child offers associate's degrees in Arts and Sciences. There are future plans for a cultural center on the campus.
Points of interest on the reservation are:
Stone Child College, Rocky Boy's Agency, MT
The Chippewa and Cree were among the last tribal groups to come into Montana. Both tribes originally lived in the Great Lakes region. Late in the nineteenth century, the Chippewa came from Turtle Mountain country in North Dakota. This was after the reservation system was in existence, and they felt they had been not treated fairly during treaty negotiations. The Cree are of Canadian descent and along with their allies were a major force on the Great Plains. Initially the tribe had a monopoly on guns and horses, which gave them a great advantage over the other tribes.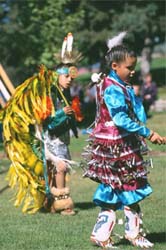 As with the other tribes, small pox devastated the Cree. The two groups refused to settle on a reservation and led a nomadic life. The Cree were deported to Canada but returned to pursue the last of the buffalo. The tribes remained homeless and fell on hard times. Finally, in 1916 Rocky Boy's Reservation was established near Havre. The tribes today are inter-mixed and use the name "Chippewa-Cree."
For more information about the Rocky Boy's Reservation contact:
The Chippewa-Cree Business Committee
Box 544, Rocky Boy Route
Box Elder, MT 59521
406-395-4282