Fort Belknap Indian Reservation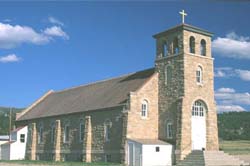 The Fort Belknap Indian Reservation is home to two tribes, the Assiniboine and the Gros Ventre, with a combined enrollment of about 4,000. The reservation and additional tribal lands encompass 650,000 acres of plains and grasslands in north-central Montana.
The Bureau of Indian Affairs and Tribal Government are the major employers. The reservation is working to develop tourism and a market for handcrafted native American arts and crafts. The tribe also maintains a herd of 300 buffalo. Antelope, bird, and gopher hunts are available with licenses and guides are required. Fort Belknap Community College is located in Fort Belknap Agency. Two-year associate's degrees in the arts and sciences are offered. The tribal archives are located on the campus along with a student-built library.
Points of interest on the Fort Belknap Reservation are:
Fort Belknap Tourism Office and Visitor Information Center
Mission Canyon/Natural Bridge, south of Hays
The Gros Ventre (French for "big bellies") and the Assiniboine have different historical backgrounds. The Assiniboine were the northernmost group of the Sioux that resided in the region between the Mississippi River and Lake Superior. In the fifteenth century, the tribe allied with the Cree and moved west. By 1820, they were firmly established in northeastern Montana. The Assiniboine adapted to the plains and were excellent buffalo hunters and horsemen. As a small tribe, they often formed alliances to ward off their common enemy, the Blackfeet. The Sun Dance was their most sacred ceremony, and the long, feathered headdress worn in the dance indicated male status and prestige. The women decorated skins and clothing with porcupine quills. The men depicted their war deeds on their tepees and on circular war shields.
The Gros Ventres split from the Arapaho tribes in the late 1600s. By the late 1700's, they were found on the northern plains, allied with the Blackfeet. Many of the first whites actually thought they were Blackfeet. Smallpox devastated the tribe in the late 1700's and again in the early 1800's. By 1861, the Gros Ventre had become bitter enemies of the Blackfeet and were settled on the Fort Belknap Reservation in 1878. Like all tribes of the time, the Gros Ventre and Assiniboine suffered terribly with the disappearance of the buffalo. Today much of the reservation is used for cattle ranching.
For more information about the Fort Belknap Reservation contact:
Fort Belknap Tourism Office
R.R. 1
Box 66
Fort Belknap Agency, Harlem
MT 59526
406-353-2205