Blackfeet Indian Reservation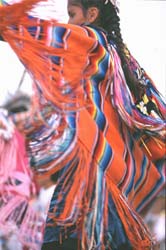 The Blackfeet Indian Reservation is in northwestern Montana along the eastern slopes of the Rocky Mountains. Canada borders its one-and-a-half million acres to the north and to the west is Glacier National Park. The largest community on the reservation is Browning, it is home to Blackfeet Community College. There are eight major lakes and 175 miles of fishing streams on the reservation. Tribal permits are required to fish on the reservation. The tribe operates four campgrounds.
There are 14,700 enrolled tribal members; about 7,000 live on or near the reservation. Nearly 27 percent of the enrolled members are of three-fourths or greater Indian blood.
A manufacturing plant on the reservation produces pencils, pens, and markers. Major uses of the land are ranching and farming. The principle crops are wheat, barley, and hay.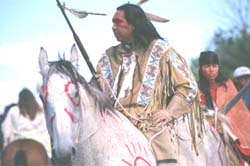 Points of interest on the Blackfeet reservation are:
Museum of the Plains Indians
Blackfeet Community College
Lewis Fight Site
Glacier Park Hotel (East Glacier)
Chief Mountain
The largest Indian tribe in Montana was the Blackfeet. The origin of their name was probably the blackened moccasins the tribe traditionally wore. The dark hue may have been painted purposely or may have been darkened by prairie fires. The Blackfeet originally lived far to the east, north of the Great Lakes.
After the arrival of the Europeans, the Blackfeet were one of the first tribes to begin moving west. Soon they were roaming huge portions of the northern plains. When they arrived, they shed their life of woodland hunting and gathering and adopted the nomadic lifestyle of the Plains Indians.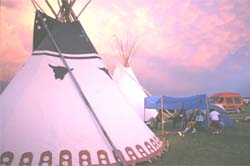 Before they had the horse, Blackfeet drove buffalo over a pishkin for harvesting. Blackfeet typically traveled in bands of twenty to thirty people, which seemed to be the most effective number for buffalo hunting. However, the tribes would come together for various ceremonies and rituals, like the Sun Dance, and for trade. The Blackfeet became excellent horsemen and hunters. They expanded their territory and resisted intrusion by the white man into the late nineteenth century.
By the winter of 1882 the buffalo had almost disappeared, and the tribe was driven onto an ever-shrinking reservation. With no meat, the Blackfeet suffered starvation. The government tried to change the nomadic hunters into farmers but were largely unsuccessful. In 1895 the tribe sold what is now Glacier National Park to the government for mineral exploration.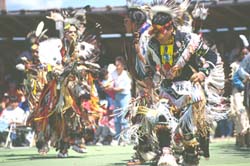 For more information on the Blackfeet Reservation, contact:
Blackfeet Nation
PO Box 850
Browning, Montana 59417
406-338-7276